Advocacy is most simply defined as speaking up or standing up for yourself or someone else. It is better understood as action taken to affect a desired change or outcome. Effective advocacy does more than whine. Good advocacy helps to define the outcome you want to personally achieve or achieve on behalf of others.
Some advocacy is about "rights". The law requires that eligible people have certain opportunities and services available to them in a timely manner. When those opportunities, services, or time lines are not honored, this represents a violation of legal or procedural rights. There are other aspects of service, support, or accommodation that are not legal requirements but would help to make a person's life better. These things could also be the focus of a person's advocacy efforts.
Peer specialists play a critical role in ensuring that a client's rights are protected. This role includes informing the client of their rights, explaining what each of these rights means in practical terms, advocating for a client whose rights may be at risk or threatened and helping clients to engage in self-advocacy to protect those rights. During a time of crisis, clients with behavioral health conditions are especially vulnerable and they may have a difficult time in asserting themselves to get their needs met. The peer specialist is especially valuable at these times.
Let's begin this module with an introduction to a recent movie, The Anonymous People, that sets the stage for understanding why advocacy is important and how some nationally known people have publicly advocated for a different system to help the millions of people in recovery today.
---
Video: MK Recovery Coaching preview of "The Anonymous People" (8:04 minutes)
---
Forms of Advocacy
Advocacy has many different forms. At its simplest advocacy enables individuals to have a say in their life and the dimensions that affect their livelihood, whether that be their care, their family, their housing or their work. This is particularly important as people with substance use and mental health conditions may have some of their fundamental rights affected by stigma, discrimination or policies that adversely affect their lives.
Advocacy in the behavioral health realm can take place on a wider scale than that of individual action. Strategic or systemic advocacy in behavioral health looks at the systems and organizations that provide care and intervention as well as the barriers to individuals having a voice in their lives. Power relationships underpin this conception of advocacy, which focuses on the inequalities between people who use services and those that deliver them.
In the context of peer specialists, there are three types of advocacy to be examined:
Peer advocacy – this is where a peer specialist takes action on behalf of a client or population of clients.
Self-advocacy – this is where a client or peer specialist takes action on their own behalf.
Political or Systems advocacy: this is where organizations take action to influence social, political, and economic systems to bring about change for groups of people.
Advocacy can be either informal, such as speaking up when you are unhappy with services you are receiving, or formal, where an official decision-maker such as an elected official, judge or governing board is being asked to take a specific course of action.
---
Peer Advocacy
Often peer advocacy is merely referred to as advocacy, with self-advocacy being set apart to refer to activities taken on one's own behalf. For this course, peer advocacy refers to support from someone with experience in living with a mental health and/or a substance use condition.
Some people find that advocacy helps when they feel they are not being listened to, or are not getting what they need and would like some support. Anyone may need advocacy at some time in his or her life, but it becomes especially relevant where:
People are being treated unfairly as a result of other people's prejudices, or their own vulnerability, or both.
People feel they have no family, friends or anyone in the wider community whom they can turn to for support.
Family and/or friends may be part of the problem.
People may have professional paid workers involved in their lives who are not providing services which take into account their needs and/or requirements.
The primary responsibility of a peer specialist is to assist the individual and be supportive of him/her. In a peer advocate role, guides the client to weight the advantages and disadvantages inherent in the various options that might be available to resolve the presenting issue. Regardless of the circumstances of the situation, the ultimate decision of what to do and how to do it is made by the individual. In doing so, the peer specialist empowers clients to see:
themselves as people with rights who have the resources to find solutions to their own issues or problem situations
themselves as having skills and strengths
advocates as having knowledge and skills that clients can use
advocates as peers and partners in finding solutions and driving change
that power structures are complex and solutions are not always immediately forthcoming
The roles that work best in peer advocacy are as:
Resources person – linking clients to resources in ways which improve their confidence and solution finding abilities; and,
Coach/Mentor – teaching processes and skills, imparting knowledge and information that enables the client to retain control of their own concerns and issues.
Sometimes, the peer advocate accompanies the client and both individuals participate in the advocacy interaction, while in other circumstances, only the peer advocate interacts with the target of the advocacy effort. Effective advocacy requires a solid plan or strategy on how to proceed. While a chosen goal or strategy might differ from what the peer advocate believes is the best course of action, the individual chooses the resolution he or she wishes to achieve as their advocacy goal.
Developing the Advocacy Plan
The development of an advocacy plan takes time. Overall, it requires that the peer specialist and the client clarify the goal, identify who needs to be involved to achieve the goal, determine what advocacy methods or strategies need to be employed, and figure out what steps will have to be taken for follow-up.
There are some steps the peer specialist should take in order to develop an advocacy plan or strategy.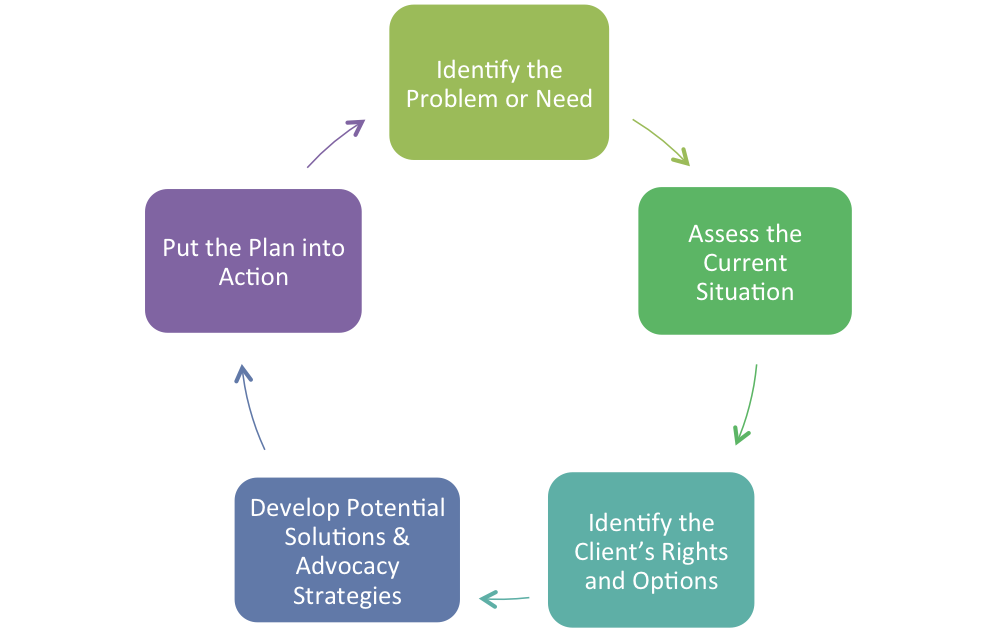 Identifying the Need or Problem
In the best case scenario, the client will clearly state the need or problem. In many circumstances, the client may not be able to clearly communicate what is needed to improve the situation. It is sometimes easier to name the problem or to say what they don't want than it is to name a solution or a desired outcome.
The peer specialist may need to help the client clarify a problem. Being able to ask pertinent questions is an important skill for the peer support specialist to master. One way to help the client to articulate the need is to use the start or stop question. That is, the peer specialist should ask:
"What needs to start happening in order for life to improve?" or
"What needs to stop happening in order for things to be better?"
Once the start and stop list is made, the client can narrow the list to set priorities – "If only one thing could start or stop, what would it be?"
 Assessing the Current Situation
Once the need or problem has been identified, assess the client's current status and to address the potential situation. Part of this assessment is determining the appropriate target for the advocacy effort. That is, who has the power to make the change that the client needs. The peer specialist should help the client determine barriers to address as part of the advocacy effort.
In some circumstances, advocacy will require disclosure about the existence or consequence of the client's behavioral health condition. When an individual begins to experience negative effects of their disorder, the peer specialist should help to weigh consequences of disclosure as part of the advocacy effort.
Identifying the Client's Rights and Options
A critical element of advocacy is understanding the rights and options to which the client is entitled. For the peer advocate to maintain credibility, he or she must be certain that the request made on behalf of the client is within legal and ethical parameters. It is important to know whether there are laws or regulations that support the client's request or need and to be aware of how those laws or regulations can be enforced.
Developing Potential Solutions and Advocacy Strategies
The peer specialist should work with the client to frame a solution to the problem or a way that the client's needs can best be met. It is important that the peer specialist does not allow his or her personal preferences or biases to influence the formation of the solution desired by the client. Desired solutions should be described as specifically as possible, while still allowing for some flexibility for the client and the decision-maker.
When advocating for your client, these efforts could be directed within your organization as part of a multidisciplinary team or external to the organization. In either instance, having an advocacy strategy is key to ensuring maximum impact and effectiveness. Developing a strategy can help you to:
Put resources (time, funds and skills) to their most effective use;
Maximize opportunities; and
Identify opportunities for coordination and collaboration, and minimize duplication of effort.