The Elevator Pitch
As a peer specialist, you may or may not have a direct role in system advocacy. There are times, however, that you may find yourself in a situation where you unexpectedly come in contact with a policymaker, their staff member, or another person who is in a position of influence. In cases like this, you have a brief opportunity (less than a minute) to make an impact. To make the most of this moment, it is critical that you have prepared a pitch in advance.
This is called an "elevator pitch"–a super short, compelling speech for a cause. Elevator pitches become your own personal talking points, and help you make your case concisely (e.g., if you happen to be in an elevator for two minutes with the governor of your state).
---
Video: How to Pitch a Non-Profit or Social Cause (4:16 min.)
---
Use elevator pitches when talking to elected officials, journalists, or anyone you want to convince that your issue needs attention. Keep it short, and hit these four themes:
Open strong: Why this matters
Start your elevator pitch with something that gets your listener's attention. This may be something that offers the big picture: whatever connects to a value that your listener holds dear. If you are talking to someone in your elected official's office, a strong opener to include is mentioning who you are and that you live in the district. Keep your opening statement to one sentence if possible. You'll know you've struck on the right opener if it answers why what you care about really matters, not just for you but for your audience and the community.
"Hello. I'm from your district, and I'm here to talk about how bringing recovery support services to persons who suffer from substance use conditions is good for individuals, families, communities, and the bottom line."
Discuss the problem: Context in a nutshell
Next, address the cause of the problem for which you are seeking a solution. Bring your personal story to bear, if you have one. Explain why this issue touches you and your community personally. Your authenticity and presentation will help get your audience past any roadblock in their thinking, and see eye to eye with you faster.
"I am a person in long-term recovery, which means that I have not used drugs for more than 10 years. I am committed to recovery and to helping others in recovery because it has given me and my family new purpose and hope for the future, while helping me gain stability in my life. I want to make it possible for others to do the same."

Provide the solution: The fix
Always follow your description of an issue with a proposed way to solve it. You might support your solution with evidence of how and where it has worked, how it has proven cost-effective, and the benefits it will bring to others. You can cite a recent study or report, or simply expand on your first-person account of how the solution would make a real difference for you or others.
"Simply providing bill codes for state behavioral health organizations to be able to bill for services provided by certified recovery peer specialists will greatly expand the availability of needed services. Peer delivered support services have been found to have many benefits. For example, peer support programs routinely receive high client satisfaction ratings. By improving client retention in services and coordination of care, peer support also improves client satisfaction with the professional services they receive and lowers the cost of care overall – costing far less to the community and taxpayers, in the end."
Deliver your call to action: The Ask!
Finally, ask for action. Continue to try to connect to the values of your listener, and be clear about what you want. Ask for something specific, which you can follow up about in your next communication with this person. Often your call to action will be a simple yes-or-no question. Remember, your pitch isn't over until you make your ask!
"Will you vote for SB 789 to add the new billing code for peer-delivered recovery support services for behavioral health organizations?"
Once you have finalized your elevator pitch, practice it and get feedback on it from colleagues and supervisors. Soon enough, delivering it will feel natural and convincing.
Let's hear some additional elevator pitch tips from Chris Westfall, the 2011 national elevator pitch competition champion.
---
Video: 6 Elevator Pitches for the 21st Century (5:22 min.)

---
Our Stories Have Power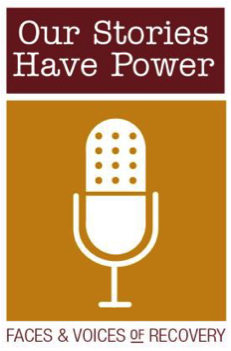 Faces & Voices of Recovery, a leading national advocacy organization, has found a way to describe and talk about recovery so that people who are NOT part of the recovery community understand what we mean when we use the word "recovery." One of the important findings from their research is that the general public believes that the word recovery means that someone is trying to stop using alcohol or other drugs.
They suggest specific ways to talk about recovery using a clear and credible strategy that will help move the field's advocacy agenda forward, making it possible for more people to get the help they need to recover.
Make it personal, so that we have credibility
Keep it simple and in the present tense, so that it's real and understandable
Help people understand that recovery means that you or the person that you care about is no longer using alcohol or other drugs. We do this by moving away from saying "in recovery" to saying "in long-term recovery" and by using concrete examples from our lives to talk about stability and mentioning the length of time that the person is in recovery.
Talk about your recovery…not your addiction. Don't use phrases like "I'm a recovering addict (alcoholic) or I'm an addict (alcoholic)" – they are not helpful. When people hear the words addict or alcoholic, it reinforces the idea of a revolving door; that you or the person in your family is still struggling with active addiction. In addition, addict and alcoholic are stigmatizing, non-person-centered words.
Help people understand that there's more to recovery than not using alcohol or other drugs, but that part of recovery is creating a better life.
In the "Our Stories Have Power" campaign, Faces and Voices of Recovery say they have side-stepped engaging in a discussion about whether or not addiction is a health issue and gone straight to this message: Real people, their sons and daughters, friends, neighbors and co-workers are in long-term recovery from addiction and their lives, and the lives of their families are better because of it. That's why we need to make it possible for even more people to get the help they need, and once they are in recovery, remove barriers that keep them from sustaining their recovery.
Still, to this day, research has shown that many people believe that addiction is a psychological issue, not a health problem. Even when someone says that they believe it's a health problem, when Faces and Voices of Recovery scratched below the surface, they found that because of their personal experiences and/or prejudices, it's difficult for many Americans to truly believe that addiction is a disease or a health problem. This is why they encourage a debate about this issue which can result in a hurdle for advocacy efforts.
---
Module 6 Reflection Activity:

Analyze This Message – Chris Herren
Chris Herren is a man in long-term recovery from alcohol and other drugs. Chris was a high school basketball legend from Fall River, Massachusetts, who realized his lifelong dream of playing in the NBA when he was drafted by the Denver Nuggets in 1999 and then was traded to his hometown team, the Boston Celtics in 2000. Chris struggled with substance use for much of his basketball career, but now in recovery has courageously chosen to share his harrowing story of addiction and recovery with audiences far and wide in the hopes of reaching just one person and making a difference in his or her life. To support this vision, he founded The Herren Project (theherrenproject.org).
Watch Chris's story at this link: https://vimeo.com/73035060 (due to privacy settings, this video must be viewed outside of this course)
Instructions: Download the activity worksheet at the link below and use it to reflect upon Chris's story.  Listen to Chris' message carefully. You may need to listen more than once. Think about what you have learned in this module about conveying messages. What style did he use to convey his story? What were his main messages? Can you use five words that all begin with the letter "P" to describe how Chris delivers his message?
Note: This activity is for reflection only and does not need to be submitted along with your workbook. 
---
ANSWERS:
What style did he use to convey his story?
He used a motivational and positive style. He came across as very authentic and credible in telling his story. He didn't dwell on the negative aspects. He touched people emotionally by talking about the impact of addiction on families and the numbers of people that need treatment and recovery assistance. He said he was good with how he feels about himself and is able to rise above the stigma or public opinion. He did use the word "addict" which is not recommended.
What were his main messages?
He believes he has a responsibility to help others. He says, "You can't keep it unless you give it."
Society should feel ashamed about how persons with addictive disorders are treated. He asks that they be afforded empathy and the help they need.
He reframes help – says if society is not bought into helping the individual, they should be able to buy into helping the family as a whole.
Asks why the media and others always want to show stories about the problems of addiction but never the positive stories of recovery. "Why can't we talk about the right?"
He stresses that the numbers in recovery are strong but they have no voice. Encourages speaking out for recovery.
Says when you look, you can see that people are affected by your story.
Can you use five words that all begin with the letter "P" to describe how Chris delivers his message?
Passionate
Personal
Painted a picture
Positive
Provocative
Pointed
Privileged
Persuasive