In September 2005, the Substance Abuse and Mental Health Services Administration (SAMHSA) convened over 100 stakeholders to discuss how to move forward in the adoption of a recovery-oriented approach for people with substance use and/or mental health disorders. From this meeting emerged a framework for understanding how to support recovery through:
four aspects or dimensions of recovery, and
guiding principles or accepted standards for services and recovery supports.
This was the first time a broad-based consensus on guiding principles was achieved on a national level.
Dimensions of Recovery
In order for individuals to be successful at living a life in recovery, they must have all of the ingredients necessary for healthy, normal functioning. This means that they must have the tools to thrive physically, mentally, emotionally, spiritually and financially. There are four major dimensions that are essential to supporting a life in recovery. All of these dimensions must be included in an effective community system of care for persons in recovery:
Health: overcoming or managing one's disease(s) as well as living in a physically and emotionally healthy way
Home: a stable and safe place to live
Purpose: meaningful daily activities such as a job, school, volunteerism, family caretaking, or creative endeavors and the independence, income and resources to participate in society
Community: relationships and social networks that provide support, friendship, love and hope.
Here is a graphic representation of these four dimensions. These principles are also useful for peer specialists to have a full understanding of the concepts of recovery that underlie their work.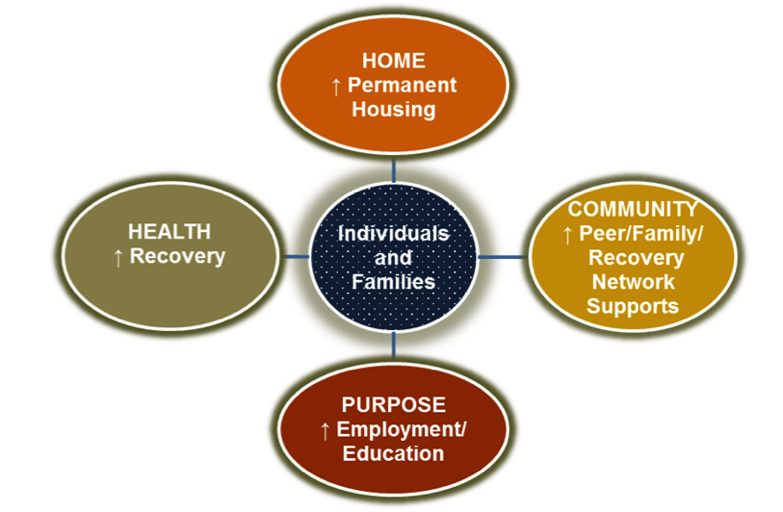 ---
Guiding Principles for Recovery Services and Supports
The following guiding principles have come to be commonly accepted as the standards for effective provision of treatment and recovery support services. Think about what these principles mean related to the types of support provided by peer specialists.
Recovery emerges from hope: The belief that recovery is real provides the essential and motivating message of a better future – that people can and do overcome the internal and external challenges, barriers, and obstacles that confront them. Hope is internalized and can be fostered by peers, families, providers, allies, and others. Hope is the catalyst of the recovery process.
For Peer Specialists: When sharing your lived experience, it is important to emphasize that your service recipient can look at your life as a possibility for their own. Their success can mirror your success. Use positive words when referring to the service recipient's future.
Recovery is person-centered: Self-determination and self-direction are the foundations for recovery as individuals define their own life goals and design their unique path(s) towards those goals. Individuals are empowered and provided the resources to make informed decisions, initiate recovery, build on their strengths, and gain or regain control over their lives.
For Peer Specialists: As much as possible ask the service recipient, rather than tell the service recipient about goals, plans and activities. Focus on affirming the service recipient's strengths and reinforce that they are the ones to make choices about their recovery.
Recovery occurs via many pathways: Recovery is built on the multiple capacities, strengths, talents, coping abilities, resources, and inherent value of each individual. Recovery pathways are highly personalized. They may include professional clinical treatment; use of medications; support from families and in schools; faith-based approaches; peer support; and other approaches. Recovery may involve setbacks. Because setbacks are a natural, though not inevitable, part of the recovery process, it is essential to foster resilience for all individuals and families.
For Peer Specialists: When telling your recovery story, remind the service recipient that the choices you made were just one option that worked for you. Emphasize that there are other choices and explore those choices with the client without endorsing one option over another.
Recovery is holistic: Recovery encompasses an individual's whole life, including mind, body, spirit, and community. The array of services and supports available should be integrated and coordinated.
For Peer Specialists: Help the service recipient to focus on all of the aspects of their lives that may need improvement in order to support recovery. Be prepared to link clients with resources to address needs in multiple areas.
Recovery is supported by peers and allies: Mutual support and mutual aid groups play an invaluable role in recovery. Peers encourage and engage other peers and provide each other with a vital sense of belonging, supportive relationships, valued roles, and community. Professionals also play an important role in the recovery process by providing clinical treatment and other services that support individuals in their chosen recovery paths.
For Peer Specialists: Be aware that you are one part of a larger team working on behalf of your service recipient. Maintain positive supportive relationships with others on the team. When necessary, recruit other community resource providers to join the team helping your client.
Recovery is supported through relationship and social networks: An important factor in the recovery process is the presence and involvement of people who believe in the person's ability to recover; who offer hope, support, and encouragement; and who also suggest strategies and resources for change. Family members, peers, providers, faith groups, community members, and other allies form vital support networks.
For Peer Specialists: Help your service recipient to identify and build their social support network and model how to maintain network relationships in a positive way.
Recovery is culturally-based and influenced: Culture and cultural background in all of its diverse representations – including values, traditions, and beliefs – are keys in determining a person's journey and unique pathway to recovery. Services should be culturally grounded, attuned, sensitive, congruent, and competent, as well as personalized to meet each individual's unique needs.
For Peer Specialists: Be aware of how your own culture affects your perspective on recovery and be respectful of the cultural concerns of your service recipient.
Recovery is supported by addressing trauma: The experience of trauma (such as physical or sexual abuse, domestic violence, war, disaster, and others) is often a precursor to or associated with alcohol and drug use, mental health problems, and related issues. Services and supports should be trauma-informed to foster safety (physical and emotional) and trust, as well as promote choice, empowerment, and collaboration.
For Peer Specialists: Be aware of how any trauma you may have experienced affected your own recovery process. As appropriate, disclose your trauma experience if such disclosure can be helpful to the service recipient. Be alert to signs that the client may have unresolved trauma issues (descriptions of nightmares, avoidance of certain types of people or situations, heightened reflexes) and refer for trauma assessment as indicated. Help the client identify trauma-related triggers to avoid.
Recovery involves individual, family, and community strengths and responsibility: Individuals, families, and communities have strengths and resources that serve as a foundation for recovery. Individuals have a personal responsibility for their own self-care and journeys of recovery. Families and significant others have responsibilities to support their loved ones, especially for children and youth in recovery. Communities have responsibilities to provide opportunities and resources to address discrimination and to foster social inclusion and recovery.
For Peer Specialists: Help the service recipient to take responsibility for their own recovery and to utilize available support appropriately. Engage family members in the recovery process as appropriate.
Recovery is based on respect: Community, systems, and societal acceptance and appreciation for people affected by mental health and substance use conditions – including protecting their rights and eliminating discrimination – are crucial in achieving recovery. There is a need to recognize that taking steps towards recovery may require great courage. Self-acceptance, developing a positive and meaningful sense of identity, and regaining belief in one's self are particularly important.
For Peer Specialists: Demonstrate respect for the service recipient and their perspectives. Use language that demonstrates care and respect, rather than pity or judgment.
---
Video: What does the recovery model look like today? (4:32 minutes)