Resources for Recovery Planning
Worksheets for planning in many recovery and wellness dimensions can be found readily in an Internet search. There are only a few fully developed "programs"' for planning related to recovery dimensions in either addiction or mental health areas. The following are often-used resources to assist with planning actions. It's essential that the peer specialist know what types of planning documents and strategies are used by the organization in which they are employed before using one of these programs. Many of these resources are free for download from the program site; others must be purchased.
---

A 4-Point Program® that is designed to help people recover from all types of addictive behaviors, including: alcoholism, drug abuse, gambling addiction, and addiction to other activities. SMART Recovery is not a 12-step group, like Alcoholics Anonymous (AA) or Narcotics Anonymous (NA). SMART Recovery sponsors face-to-face meetings around the world, daily online meetings, and an online 24/7 chat room for addiction recovery support.
SMART Recovery offers specific tools and techniques for each of the program points.
Point 1: Building and Maintaining Motivation
Point 2: Coping with Urges
Point 3: Managing Thoughts, Feelings and Behaviors
Point 4: Living a Balanced Life
The tools are primarily for self-assessment and self-completion but could be used in partnership with a peer specialist or counselor. Most of their tools are available free for download from the SMART Recovery Toolchest and Homework resources page at http://www.smartrecovery.org/resources/toolchest.htm
---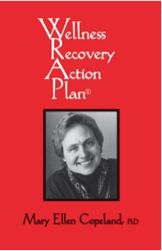 WRAP for Addictions
Wellness Recovery Action Plan (WRAP) For Addictions is an adaptation of the popular personal guide to developing a Wellness Recovery Action Plan, originally developed for persons with mental health conditions. The workbooks are available for purchase. WRAP can successfully be used in WRAP groups, by people who are working with a care provider on developing their WRAP, or by people who are working on their own to develop a WRAP.
This special edition of the original Wellness Recovery Action Plan book presents a system developed and used successfully by people with various mental health difficulties, including substance use conditions. It has helped them use self-help skills more easily to monitor how they are feeling, decrease the severity and frequency of difficult feelings and behaviors, prevent relapse, and improve the quality of their lives. This book (available for purchase) covers how to:
develop a personal list of activities for every day well-being;
track triggering events and early warning signs;
prepare personal responses for times when things are worsening; and
create a plan for supporters to follow if needed.
---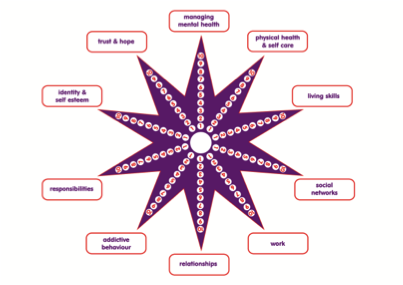 The Recovery Star
The Mental Health Providers Forum in the United Kingdom developed The Recovery Star tool (2009). Its primary use has been in adult mental health services, but the core dimensions of the Recovery Star also address addictive behavior along with other recovery and wellness dimensions. The tool supports individuals in understanding their recovery and plotting their progress. The materials must be purchased, however, a sample of the User Guide and Recovery Star tool are provided in the Resources section of this course.

Core dimensions of the Recovery Star
Managing mental health
Physical health & self-care
Living skills
Social networks
Work
Relationships
Addictive behavior
Responsibilities
Identity & self-esteem
Trust & hope
---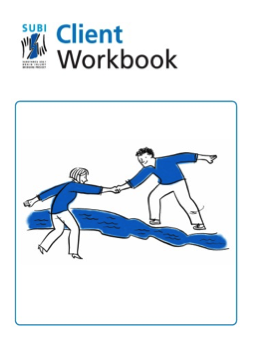 The Substance Use/Brain Injury (SUBI) Bridging Project of Canada provides education and treatment information on substance use following a brain injury. They have created an attractive and easy to use workbook called the Client Workbook. This can be downloaded from the course Resources section.
This workbook can be used as an aid in structuring individual planning sessions with a client or as handouts for use in group settings. Although it was designed for use with persons with a brain injury, the workbook content is about addiction and managing recovery, not the brain injury. Each chapter is organized into the following sections to make the workbook easy to follow: Goals, Information, Self-assessment, Worksheet and Plan.
A recovery checklist is included in the Forms for Reproduction section of the Client Workbook. Completing this form or a similar plan at the end of each session, is suggested to help to keep clients focused on their particular goals by organizing their thoughts, problem-solving, and establishing actions for follow-through. A structured self-assessment is provided in most chapters. Worksheets and plans are provided to assist the client in applying the new information to their own plan of action.