Introduction
In order to understand the historical context of peer support, it is important to review a brief history of how society has dealt with substance use and mental health conditions. Peer support has its roots in the natural helping networks formed in families, friendship groups and communities where people use their life experiences to help and guide others who are facing the same issues. The big brother who teaches his little brother to hit a baseball, the neighborhood mom who visits a new mother and provides advice about formula and the friend who shares his experience with finding a nursing home for an aging parent are all examples of peer support.
In the mental health field, peer support has been provided for many years in both formal and informal ways in clubhouses, drop-in centers, and consumer-run organizations. In the addiction field, peer support and mutual self-help have a long history in groups such as Alcoholics Anonymous, Narcotics Anonymous, and Al-Anon. Newer types of peer support services for persons with substance use conditions are now available and parallel the mental health peer support services in most ways. In fact, the delineation between mental health and substance use peer support is blurry given the high co-occurrence of both behavioral health conditions in persons seeking care.
The philosophy of peer support developed as a response to the social injustice and stigma that was faced by individuals with behavioral health conditions. Individuals who have encountered injustice, misunderstanding or hardship related to their substance abuse or mental health condition may find common ground with others in the same circumstance. This commonality is the basis of a peer support connection. The term lived experience is used to describe the first-hand accounts and impressions of living as a member of a minority or oppressed group. For example, when veterans talk about what it is like to re-enter civilian life after a deployment, they are describing their lived experiences.
Sometimes, people will minimize or deny the importance of lived experience, saying:
"I never saw that happen."
"I know a person with that condition and she says it didn't happen to her."
"Logically, that shouldn't happen (and so it doesn't)."
"Anecdotes are not data."
The strength of the peer support movement lies in honoring and validating lived experience and seeing it as a valuable tool in helping people toward their recovery. Since the 1999 Surgeon General's Report on Mental Health, formalized peer support, including the use of paid peer specialists, has come into wider practice. Peer support occurs when people in similar life situations provide knowledge, experience, and emotional, social or practical help to each other.
Peer support as a distinct profession was first created in the State of Georgia. In December of 2001 approximately thirty-five present and former mental health consumers completed their training and examination to become Georgia's first class of Certified Peer Specialists (CPSs). As of 2015, more than 36 states have established programs that train and certify individuals with lived experience who have initiated their recovery and are willing to assist others in the recovery process.
Then and Now: Models of Addiction and Approaches to Treatment
Models of Addiction
Although the term "addiction" is not used as a clinical diagnosis, it is often used by non-clinicians to refer to the physical, mental, and emotional dependence on alcohol or other drugs and the compulsive use of those substances despite negative consequences. The mechanism of addiction has been investigated by many researchers and various models related to substance addiction in humans have been presented. Several explanations (or "models") have been presented to explain the causation of addiction: Intervention and treatment approaches for individuals affected by substance use have varied based upon the model currently prevailing within the treatment community.
The moral model states that addictions are the result of human weakness, and are defects of character. Intervention Approach: Sanctions and punishment
The disease model holds that addiction is an illness, and comes about as a result of the impairment of healthy neurochemical or behavioral processes. While there is some dispute among clinicians as to the reliability of this model, it is widely employed in therapeutic settings. Intervention Approach: Prevention and medical management
The genetic model posits a genetic predisposition to certain behaviors. It is frequently noted that certain addictions "run in the family," and while researchers continue to explore the extent of genetic influence, there is strong evidence that genetic predisposition is often a factor in dependency. Researchers have had difficulty assessing differences, however, between social causes of dependency learned in family settings and genetic factors related to heredity. Intervention Approach: Prevention including abstinence
The cultural model recognizes that the influence of culture is a strong determinant of whether or not individuals fall prey to certain addictions. Intervention Approach: Positive cultural reinforcement
The blended model attempts to consider elements of all other models in developing a therapeutic approach to dependency. It holds that the mechanism of dependency is different for different individuals, and that each case must be considered on its own merits. Intervention Approach: Holistic
All of these views of addiction focus on the source or cause of the problem, rather than on the outcome or solution that is emphasized in a recovery-oriented approach. The recovery-oriented approach is discussed in detail in Module 2. The recovery paradigm provides the foundation and rationale for the concept of mutual aid and peer support.
The History of Mutual Aid and Peer Support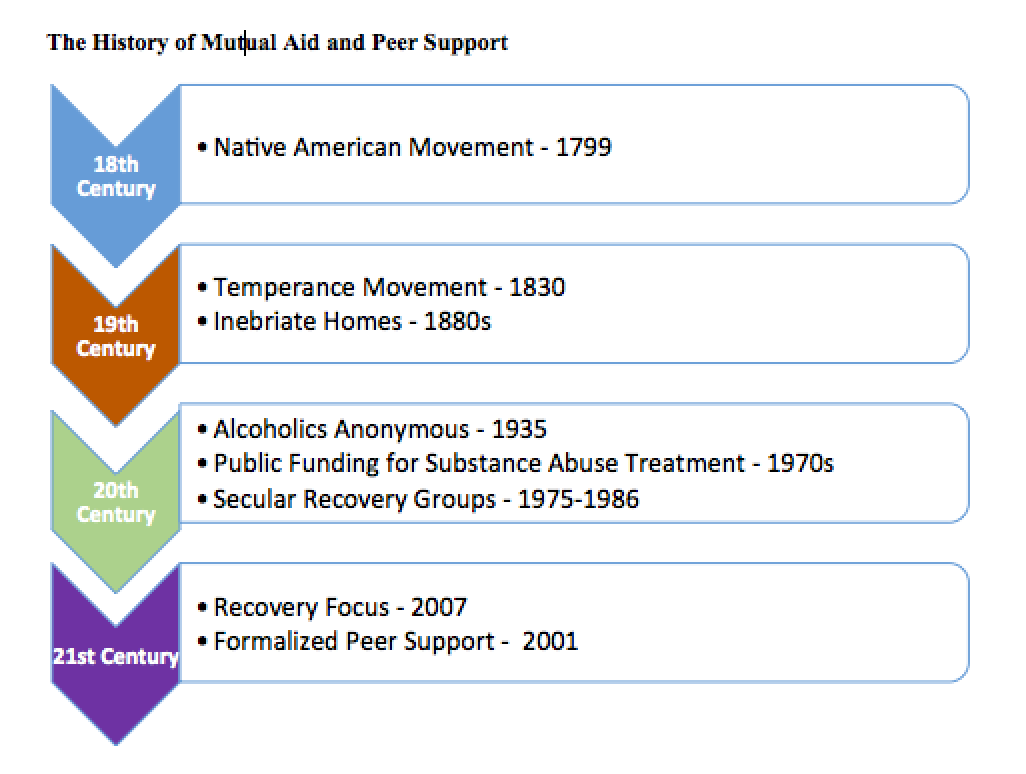 While the formal recognition of peer support as a profession, mutual or peer aid focused on addiction recovery began as early as the end of the 18th Century, with the Native American's Handsome Lake Movement and the Shawnee Prophet Movement. These movements were abstinence-based and culturally-focused. This tradition of mutual aid among Native communities continues into modern times with the Red Road and Wellbriety communities.
About thirty years later than the Native American movement, organized mutual support for recovery in Euro-American communities through the temperance movement began. Both secular and religious groups were part of this movement, and there was a mix of abstinence-based philosophies and moderation-based recovery frameworks.
During the latter half of the 19th Century, many of these groups fell out of favor. At the turn of the century, a new wave of transition groups such as the Brotherhood of St. Luke, the Jacoby Club and the United Order of Ex-Boozers set the stage for the founding of Alcoholics Anonymous (AA) in 1935. Many specialized anonymous 12-Step groups grew out of the AA tradition and today AA remains probably the best known mutual aid recovery movement. The latest phase in this history is the growth of both secular and religious alternatives to 12-Step groups, such as Women for Sobriety in 1975 and Rational Recovery in 1986.
Peer Support is a system of giving and receiving help founded on key principles of respect, shared responsibility and mutual agreement of what is helpful.
The early roots of today's specialty sector treatment system are found in the inebriate homes, medically directed inebriate asylums, private for-profit addiction cure institutes, and proprietary home cures for addiction that were created in the second half of the 19th century. These treatment facilities, along with their mutual aid counterparts, collapsed in the opening decades of the 20th century with the advent of the prohibition movement. Following this collapse, responsibility for individuals with severe substance use conditions moved to the criminal justice system, as well as to psychiatric institutions. With this move, compassion and care took a back seat to isolation, punishment, and control, with the shame and stigma attached.
Legislation passed in the early 1970s created the modern addiction treatment as a specialized health care field. The federal, state, and local partnership framed within this legislation, along with the availability of insurance coverage for the treatment of addiction led to the growth of specialized addiction treatment from a few hundred small programs to more than 15,000 institutions with a daily treatment capacity or more than 1.75 million patients served by a work force of 130,000 full-time and 67,000 part-time and contractual workers, including peer specialists by 2010.
As the focus in recent years has shifted from the pathology of addiction to the concept of wellness and recovery, the importance of mutual aid or peer support has become more apparent. Peer support can be the bridge between the time in treatment to a life in recovery.
Defining Peer Support
Peer support is unique because it is offered by a person who is similar in specific ways to the person receiving help. Peer support services are delivered by individuals who have common life experiences with the people they are serving. This means that their relationship is based on equality, rather than on authority. A peer offers support based on the fact that he or she has "been there, done that" and can relate to others who are now in a similar situation. By sharing their experiences, peers bring hope to people in recovery and promote a sense of belonging within the community.
Peer Support is a system of giving and receiving help founded on key principles of respect, shared responsibility and mutual agreement of what is helpful.
Many human service organizations have recognized the value of such support and have begun to utilize peers as part of the treatment or service process. Individuals trained and employed to offer this peer-based assistance are known as peer specialists. In many other states, peer specialists receive special certification when they have achieved a certain level of training and experience. This certification documents that the individual has met certain basic standards of competency in delivering peer services. This competency is attained through the completion of specific training and work experience and may be measured by a written certification examination. Not all peer specialists are certified. It is important to check your state regulations.
Peer support practice is guided by the belief that consumers of behavioral health services need opportunities to identify and make choices about their care and their desired roles within the community. Peer specialists facilitate the development of recovery and self-management skills. The services they provide are multi-faceted and include, but are not limited to, individual advocacy, education, development of natural supports, support of work or other meaningful activity of the individual's choosing, crisis management support, and specific skills training.
Role of Peers
A peer specialist is a person who has progressed in their own recovery from a mental health or substance use condition and who is willing to disclose their recovery status in order to assist other individuals through the process of recovery. Because of their life experience, such persons have expertise that professional training cannot replicate. There are many tasks performed by peer support specialists that may include assisting their peers in articulating their goals for recovery, learning and practicing new skills, helping them monitor their progress, assisting them in their treatment, modeling effective coping techniques and self-help strategies based on the specialist's own recovery experience, and supporting them in advocating for themselves to obtain effective services.
Although their life experiences and recovery stories are different, peer specialists who are successful at their jobs have some qualities or characteristics in common. These include compassion, empathy and a willingness to listen with true caring for others on the recovery journey. Effective peer specialists demonstrate enthusiasm for the job, knowledge of the recovery process, flexibility, creativity and an ability to solve problems   Perhaps most importantly, in order to be effective at their jobs, peer specialists must have the ability to communicate effectively.
Profiles of Peer Support Specialists
Here are some fictional profiles of peer support specialists.
Mary W. – Mary is 55 years old and has been in recovery from alcohol use disorder for 15 years. Before she quit drinking, Mary had two arrests for DUI and her husband of 25 years filed for divorce. After the divorce, Mary moved to a new town so that she could have a "fresh start." Mary still attends Alcoholics Anonymous meetings, mostly during stressful times. Although she feels secure in her recovery, Mary says that there are times when she craves the relief she felt in the early days of her "love affair with the bottle."
Bob S. – Bob is a veteran of Operation Iraqi Freedom. He has been diagnosed with Post-Traumatic Stress Disorder and has received treatment. Bob still takes medication to manage his anxiety. Bob had a difficult time with re-integrating to civilian life and found it difficult to navigate the maze of Veteran's Administration (VA) services that were available to him. Bob admits that he was reluctant to use VA services because he did not want to show weakness to others in the military.
Rachel P. – Rachel is the mother of a 15 year old son, Ben, who has been diagnosed with bipolar disorder and conduct disorder. Ben has had many difficulties in the traditional school system, although he has an active Individual Educational Plan (IEP) that addresses the accommodations he needed in the school environment. It took Rachel and her husband several years before they learned how to advocate for their son within the educational environment and mental health service system. Rachel reports that Ben's problems put a strain on her marriage, but she feels that she and her husband are now "on the same page" about how to help Ben.
---
Module 1 Reflection Activity:
Your Own Peer Specialist Profile
Instructions: Using the example profiles above, come up with your own peer specialist profile. See if you can capture what part of your lived experience is most important to your ability to serve as a peer specialist. Note: This activity is for reflection only and does not need to be submitted along with your workbook. 
Reviewing the profile:  
Did you include or name your behavioral health disorder?
Did you mention ways in which you had overcome difficulties?
Did you talk about ways in which you still struggle?