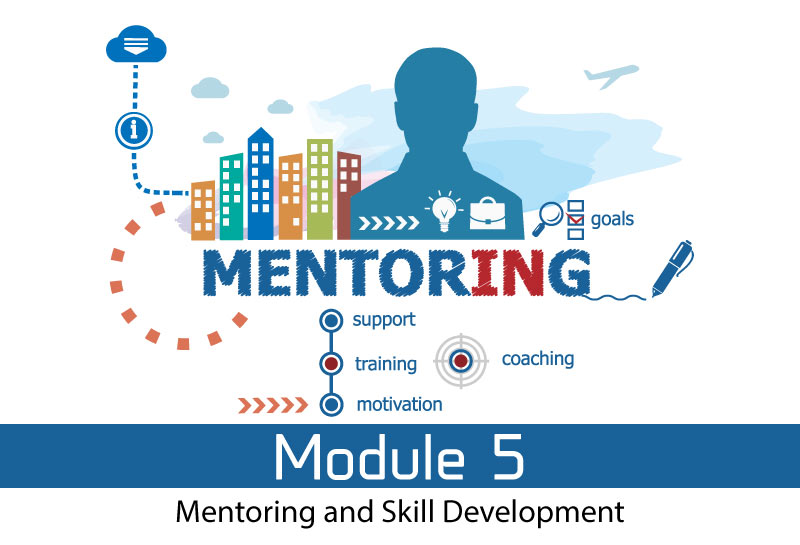 Purpose
The purpose of this module is to describe how peer support specialists function as mentors and role models for individuals with behavioral health disorders. The module also helps peer support specialists to understand the principles of adult learning that can be used to teach their clients practical living skills. In addition, the module provides information about group facilitation skills and resources that can be used to enhance the mentoring process.
Topics
Mentoring

Defining Mentoring
Primary Tasks of Mentoring
Three Levels of Mentoring

Role Modeling

Definition and Examples of Role Models
Accepting Responsibility for Role Modeling

Recognizing and Fostering Resilience

Defining Resilience
Traits of Resilient People
Resilience: A Skill That Can Be Taught

Practical Living Skills

Personal and Self-Care Skills
Community Living Skills
Social Skills

Social Development
Helping Adults Learn New Skills

How Adults Learn
How Mentoring Fits with Adult Learning
Learning Styles
Techniques for Teaching Skills

Working in Groups

Types of Groups
Group Facilitation Skills
Learning Objectives
After completing this module, participants will be able to
Define mentoring
Identify four primary tasks of mentoring
Describe the three levels of mentoring
Define resilience
Identify three strengths that support resilience
List three categories of practical living skills
Identify the four components of Emotional Intelligence
Describe three stages of social development for adults
Name at least two principles of adult learning
List and describe the three most common learning styles
Describe an effective method for teaching adults new skills
Identify two types of groups that peer support specialists might facilitate
List three types of support groups
Name four roles of a group facilitator
Identify two problems that may occur in group settings and suggest techniques for addressing the problems
Module Activities
Module 5 Activity: Mentor or Not?
Module 5 Reflection Activity: Characteristics of Role Models
Module 5 Activity: Role Modeling
Module 5 Reflection Activity: Resilience Reframe
Module 5 Reflection Activity: Self-Care
Module 5 Activity: Employability Skills
Module 5 Activity: Recognizing Emotional Intelligence
Module 5 Activity: Choosing the Right Learning Activities
Module 5 Activity: What Type of Group?       
Module 5 Reflection Activity: Comparing Groups to One-On-One Interaction
Module 5 Reflection Activity: Group Facilitation
Workbook Activities
After you have completed all of the module 5 lessons below, complete the following activities your course workbook:
Workbook Activity 1: Mentoring Activity (30 minutes)
Workbook Activity 2: Group Observation (90 minutes)
Workbook Activity 3: Facilitation Plan B (30 minutes)
Module 5 Quiz
After you have completed all of the module 5 lessons below and the workbook activities, you will be able to click the button at the bottom of this page to complete the Module 5 Quiz and Advance to Module 6.