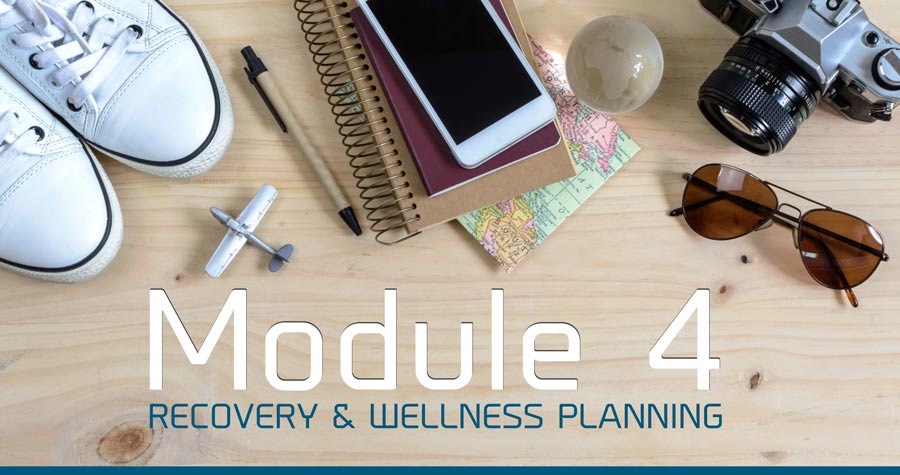 Purpose
The purpose of this module is to introduce concepts of strengths-based language and planning, and how these are incorporated into the more comprehensive process of recovery and wellness planning. It explores how peer specialists: assist in the development and monitoring of a recovery plan; should view and help clients prevent relapse; support the client's achievement of strengths-based individual goals; promote wellness strategies; and, serve as successful role models.
Topics
Strengths-based Perspective
Person-Centered Planning
Triggers and Relapse
Wellness

Why Wellness Matters
Dimensions of Wellness
Wellness Strategies

Recovery/Wellness Plans

Role Modeling through Self-Care
Resources for Planning
Learning Objectives
After completing this module, participants will be able to:
Distinguish between "deficit" versus "strength-based" approaches
Describe the core processes of person centered planning
Explain the importance of attending to relapse triggers and warning signs
Identify at least six of the eight dimensions of wellness
Describe at least three ways peer support specialists can promote wellness among those they support
Discuss aspects of their roles in recovery/wellness planning and monitoring
Module Activities
Module 4 Activity: Practicing Strengths-based Language
Module 4 Reflection Activity: What is your picture of health and wellness?
Module 4 Activity: Dimensions of Wellness
Workbook Activities
After you have completed all of the module 4 lessons below, complete the following activities your course workbook:
Workbook Activity 1: Personal Wellness Planning, Part 1 (60 minutes)
Workbook Activity 3: Personal Wellness Planning, Part 2 (30 minutes)
Module 4 Quiz
After you have completed all of the module 4 lessons below and the workbook activities, you will be able to click the button at the bottom of this page to complete the Module 4 Quiz and Advance to Module 5.