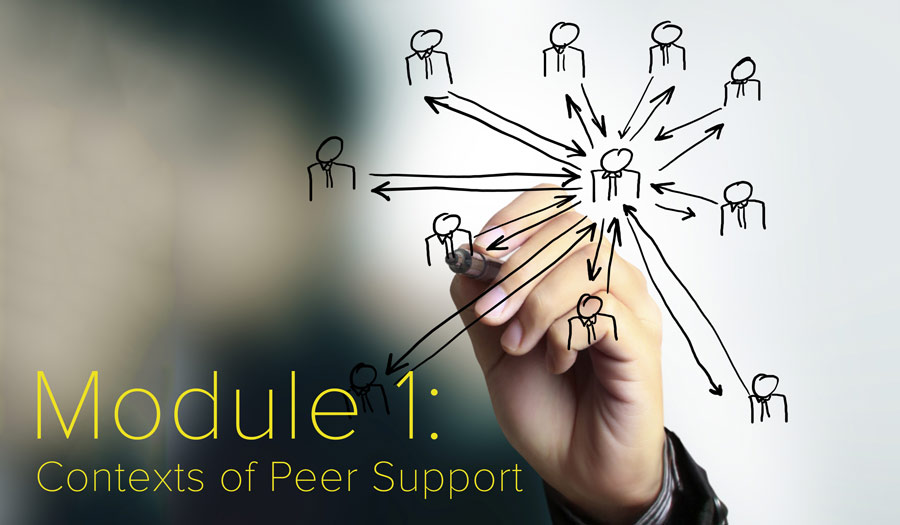 Purpose
The purpose of this module is to define peer support and to help participants understand the roles and responsibilities of peer specialists within substance abuse and mental health treatment and recovery services. The module also provides guidance to peer specialists to help them be successful in the workplace.
Topics
Definition of Terms
Historical Contexts of Peer Support

Introduction
Then and Now–Models of Addiction and Approaches to Treatment
Defining Peer Support
Role of Peers

Social Contexts of Peer Support
What Peer Specialists Do
Environments Where Peer Specialists Practice
Benefits of Peer Support Services
Workplace Considerations for Peer Specialists
Peer Specialists as Part of a Team
The Impact of Bias and Stigma
Learning Objectives
After completing this module, participants will be able to:
Define peer support
Explain what qualifies someone to serve as a peer
List three roles performed by peer specialists
Describe the limits of the peer specialist role
Identify three benefits of peer support services
Describe two things that peer specialists can do to be effective as part of a team
Explain the difference between bias and stigma
Explain the role of the peer specialist in reducing stigma
Module Activities
Module 1 Reflection Activity: Your Own Peer Specialist Profile
Module 1 Activity: Peer Specialist Roles
Workbook Activities
After you have completed all of the module 1 lessons below, complete the following activities your course workbook:
Workbook Activity 1: Challenging Internalized Stigma (60 minutes)
Workbook Activity 2: Role of the Peer Specialist (90 minutes)
Module 1 Quiz
After you have completed all of the module 1 lessons below and the workbook activities, click the button at the bottom of this page to complete the Module 1 Quiz and Advance to Module 2.